H
ello.
I'm currently a first year Ph.D. student in the
Digital Media
program at
Georgia Tech
. I wrote my MSc thesis on videogames and poetry, which is available
upon request
.
I'm a designer, researcher, and critic. I have been a corporate lackey, laboratory assistant, private school teacher, private tutor, sales clerk, administrative assistant, and web journalist. My Master's research looked at rhetorical and formal qualities of modernist poetry and how they might be used in game design to make videogames more meaningful. My current research is not as well defined (yet), but focuses on how to co-design technologies to address the self-defined values, needs, and goals of local Atlanta communities.
Feel free to contact me:

miss.asad | at | gmail.com

Mariam Asad

@mimib0t

848-naught-0
Master's Thesis
In my thesis, I explore literary and rhetorical devices in modernist poetry and analyze how parallel existing videogame mechanics. I also look at ways in which these mechanics might lend themselves to different forms of creative expression. It includes analyses of games like
VVVVVV
,
Braid
, and
Limbo
. My thesis will be available on this site soon.
Newsgames
I spent three semesters with the
Newsgames research project
at Georgia Tech. I wrote articles on various games for the project blog:
news literacy tools
, an educational game on
civic rights
, a dystopian web narrative (
Part I
,
Part II
), and a
CNN quiz game
.
Miscellaneous
One of my most well known pieces is an analysis of
Heavy Rain
that I wrote for an (now defunct) independent publication. I examined the game's use of camera angles and how they contribute to gameplay. It is also available
here
as a
PDF
.
I also have various essays from my academic career, which cover subjects including literary theory, science and technology studies (STS), and communication studies.
The Living Room
This was an installation piece where a participant interacted with the space through a head-mounted display. Our design included tape art, projected video, live camera feed, and custom Flash UI. I worked on the project design and assisted with production.
More detail and images can be found
here
. (opens in new window)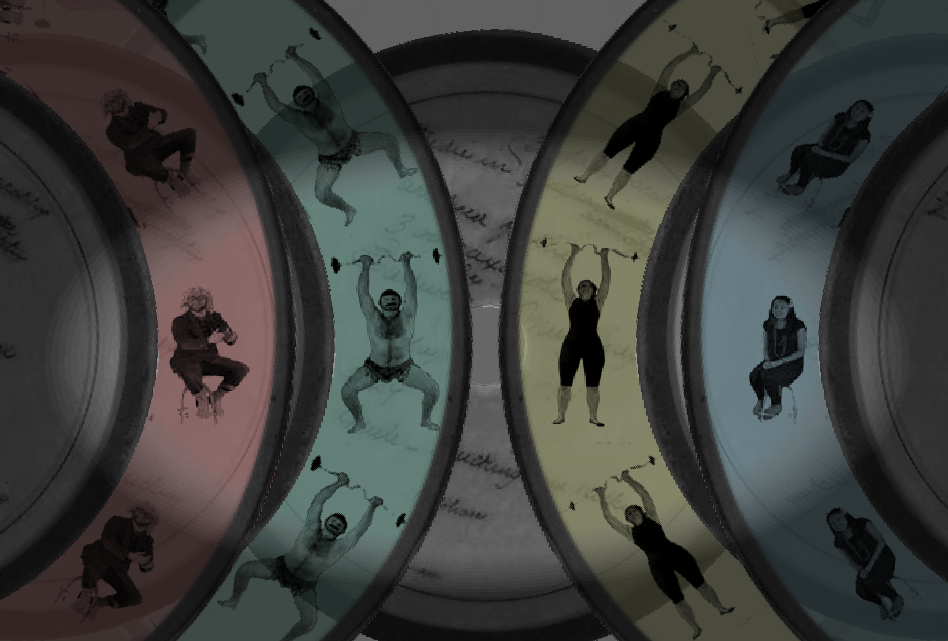 Vaudevilloscope
This group project digitally remediates a zoopraxiscope and evokes the golden age of Vaudeville. It features original footage, video editing, and AS3 back-end. More details can be found on our
poster
.
Project can be viewed
here.
(opens in new window, beware long load times, requires repeated viewings)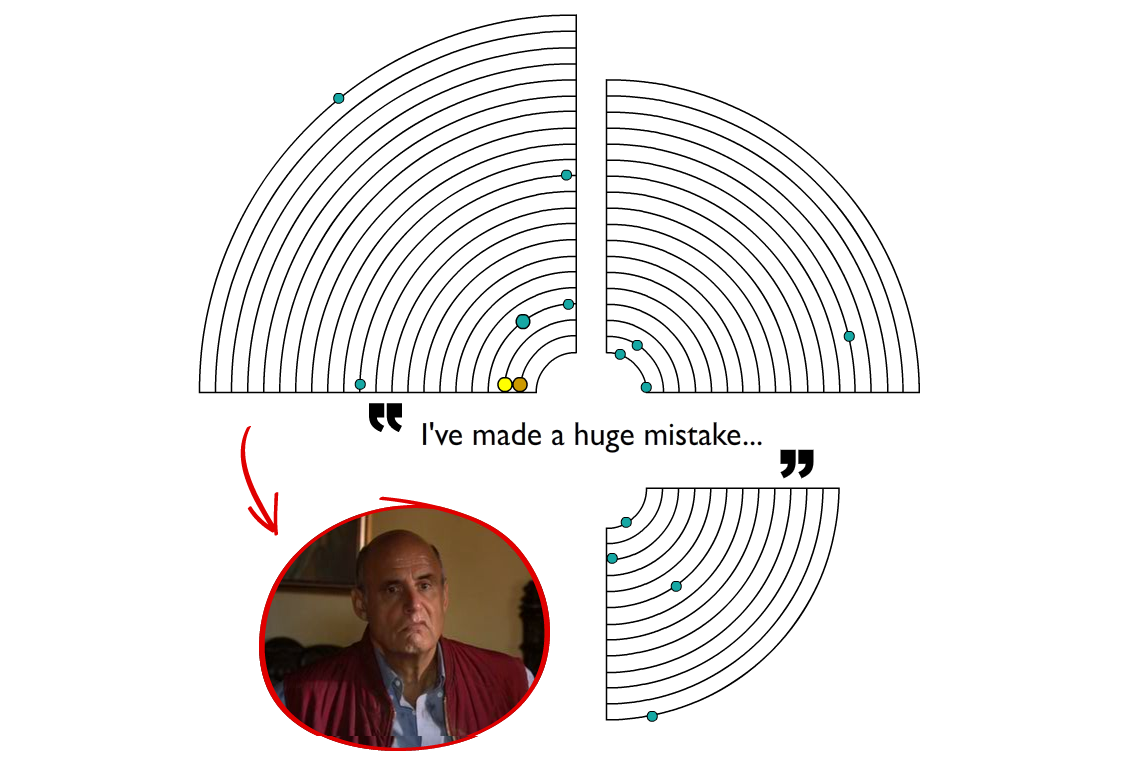 Arrested Development Anti-Map
One of my first experiences working in Flash, the assignment was to map something 'un-mappable.' I chose to visualize the running jokes from my favorite television series Arrested Development. Each quadrant is a season and each dot represents an instance of the joke.
The work-in-progress can be seen
here
. (opens in new window)
Prototype: Temporal Jigsaw Puzzle
I wanted to create a digital jigsaw puzzle that best used the affordances of the digital medium. Each puzzle piece represents a point in time. The player can shift through time, which changes the shape of each piece.
More details on my prototype can be found
here
. (opens in new window)
Ghost Checkers
Inspired by White Chess,
my friend Brian
and I came up with Ghost Checkers. The game is essentially paper-and-pencil checkers, except we didn't erase any of the pieces. Each position of each piece, past or present, was available to jump and be jumped. An elaborate series of jump chains ensued. The winner was decided when there were no more available moves. The game got really messy really quickly, if our
game board
is any indication (e.g. jumps that wrap around the board).
Undergrad Bingo
I wrote this during my undergrad, the night before the final draft of my undergrad thesis was due. The
bingo card
is, of course, just for funsies. It's meant for professors and instructors who have to grade endless amounts of undergraduate papers and inevitably encounter the same tropes and clichés. I won a game while proofreading my work later that night.
Also available as a
DOC
or a
PDF
. (opens in a new window)
Education
Georgia Institute of Technology (2009-2011)
Master of Science, Digital Media
Master's Thesis: "Making It Difficult: Modernist Poetry and Game Design"
York University (2005-2009)
Bachelor of Arts (Honours), English Literature and Communications
Summa Cum Laude; Dean's List; Final GPA: 8.1/9.0
Experience
Graduate Student Researcher, Georgia Institute of Technology (2009-2011)
Virtual ethnography in Second Life. Fastidious attention to detail, working under constant pressure and deadlines. Self-motivated and self-reliant, collaborating with academic and corporate teams.
Project Assistant, Clearstone Central Laboratories (2007-2009)
Technical support (phone), equipment troubleshooting, solely responsible for Sunday operations, coordinated clinical trials internationally, miscellaneous administrative skills.
Prior jobs include private school teacher, specimen preparation specialist, private student tutor, sales clerk in an art supplies store, administrative assistant, web journalist.
Skills
Knowledgeable in Photoshop CS3+, Illustrator CS3+, Flash CS3+, Dreamweaver CS3+, MSOffice 2008+, HTML5, CSS3, jQuery, both OSX and Windows platforms.
Experience with Premiere CS5, Actionscript 3, Processing, JavaScript, XML, PHP.
Game design (rule sets, game mechanics, level design).
UI basics (wireframes and layout design for web, devices, print).
Principles of visual design (prototyping, typography, interface design).
Ethnographic methods (participant observation, field notes, data analysis).
Writing (academic, web, editorial).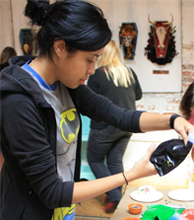 I've lived in Toronto, Canada for most of my life before moving to Atlanta for grad school. I completed my undergrad at
York University
and received a BA (Honours) in English Literature and Communications.
I speak a little French, a little Tagalog, a little Arabic, and
fluent Arrested Development
.
My other interests include
Drop7
, rollercoasters, Lego, shawarmas, Clone High, VVVVVV, Korean BBQ, and public transit systems.